Added plywood gusset plates for raised heel common fink trusses.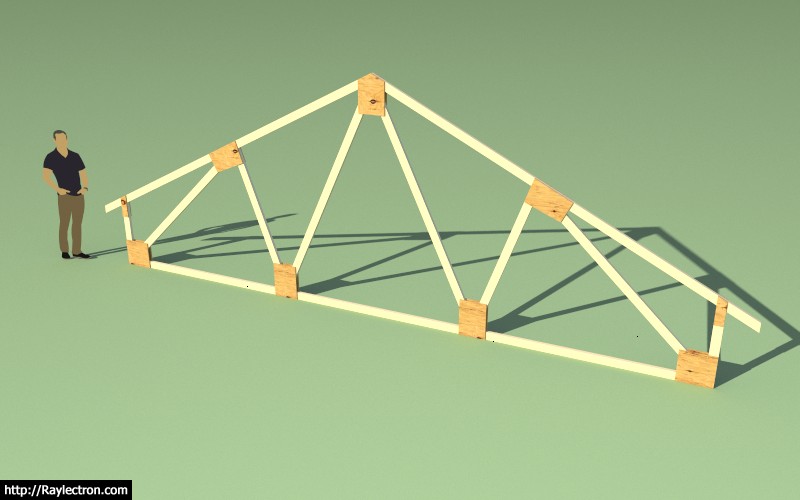 View model here:
Note that there are currently no calcs associated with these WGC trusses. If you are going to build your own trusses I would strongly suggest you find a local structural engineer to assist in specifying the plates sizes and fasteners, especially if the truss span is greater than 16 feet and your snow loads are greater than 25 psf in your region.
When I engineer WGC trusses I will also call out a waterproof glue as well however I don't take the glue's strength into the calculations. This provides another margin of safety and also the rigidity of a glued and nailed gusset plated truss is superior in my opinion to your typical MPC truss.
Every member is critical in a truss, however some are more stressed than others. Your top and bottom chords should never be anything less than a No. 2 DF. I would suggest No. 1, No. 1 & Btr. or Select Structural. The webs of a typical truss are usually stressed quite a bit less than the chords and sometimes you can get away with stud grade lumber but I would suggest DF No. 2 on all webs as well. A strategically placed knot can easily ruin an entire truss.
Just as important as the materials is the level of care taken in cutting the members and assembling the truss. All joints should fit tightly together so that members in compression can bear directly on their adjacent members. Also realize that tension members may experience load reversals in high wind or seismic events so even tension members are no exception to the rule.
The correct fasteners and fastener size is critical. The nails will be in single or double shear and the joint connection is relying entirely on this shear strength of the fasteners to hold together. Fasteners too close to the edge or ends of a member are not as effective, so fastener placement is also critical.
I am curious how the two truss types would compare in a burn test, which one would stay intact longer. My suspicion is that the plywood gussets would char and slowly burn however the metal plates would heat up and loose their strength quickly and fail.
I know most people don't do this but I would personally stress test each truss before installing it on the intended structure. Mostly what you are looking for is a uniform deflection across all the trusses so that they can load balance properly. If a truss is defective this test should help ferret out this data even though visually the truss may look acceptable.