Tutorial 3 - Beams and Columns:
The model used in the tutorial video can be downloaded here:
Intro Video - The Vision:
The model for this video can be view here:
I am also renaming the Extension Suite/Library to "mdkBIM":
http://design.medeek.com/resources/resources.html#mdkbim
The target audience/disciplines are:
1.) Designers/Architects
2.) Engineers
3.) Estimators
4.) Contractors
Version 0.9.7f - 10.11.2018
Window sill qty. callout added to the framing callouts for windows.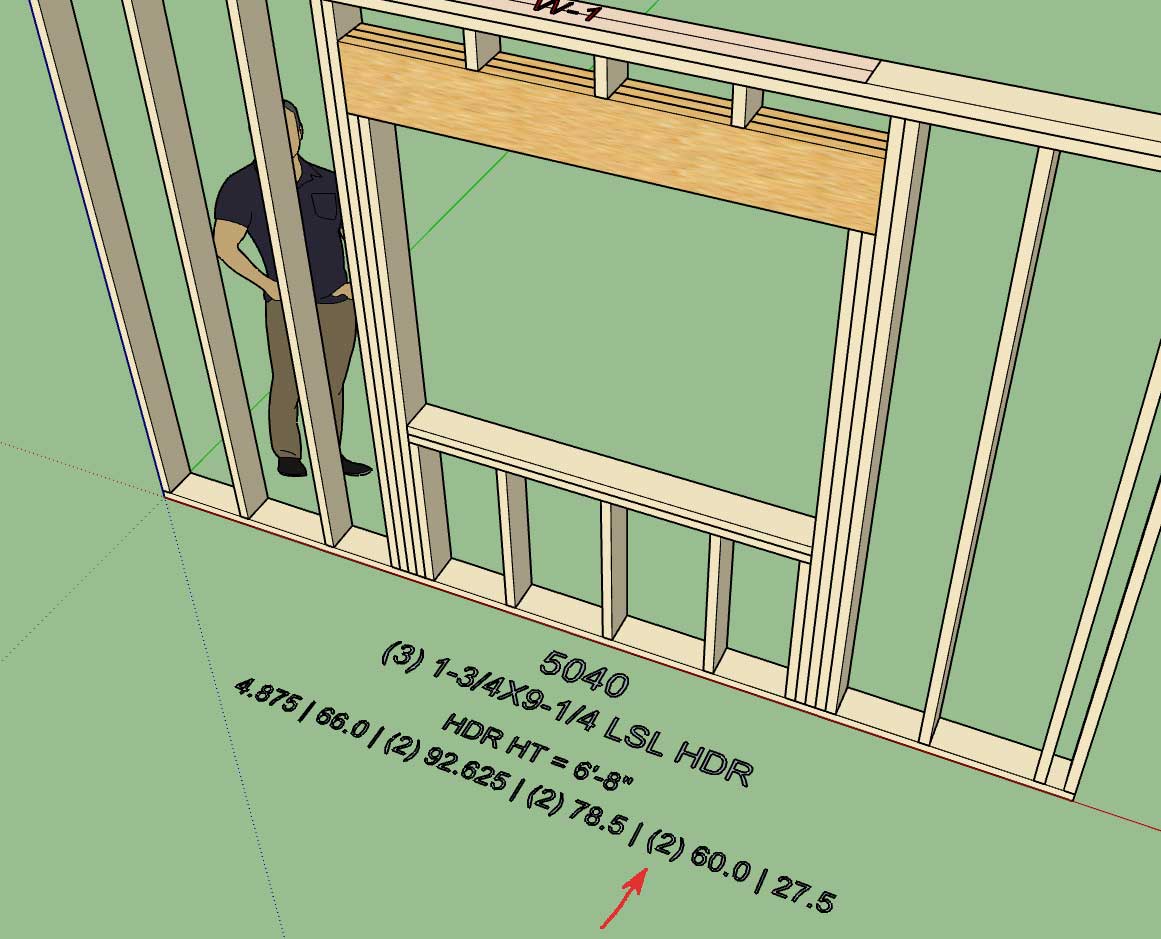 Looks like I forgot to add the quantifier for the window sill plate.
The framing algorithm for stacking windows and doors is going to get very messy, what if the trimmer and kings studs don't exactly lineup? Then the framing gets really interesting.
A larger or smaller opening above another will also call for different framing solutions.
This one is going to take some serious thought.
Why do you designers have to make things so difficult? This one is not really that high on the todo list but it is giving me some serious headaches just contemplating it.
Does anyone have any examples (drawings or pictures) of this sort of situation(s)?
Oh, yeah, it get's interesting.
My own front door and sidelight have a custom sized transom window by a different manufacturer (which was the only choice really). Bottom line: we could make the exterior trim align vertically, but not on the interior, and vice versa. So we chose the former and worked out an interior trim detail that was tolerable.
Necessity is the mother of invention as they say, and as I was creating a small two story model of a garage for local customer today it quickly became painfully obvious that I still do not have a good stair plugin or module.
The toolbar for the stairs module will start out with the following two icons, there will probably be additional ones added for concrete or steel stairs in the future:

The basic parameters for the Draw Stairs Menu will be:
0.) Stair Assembly Name: Auto assigned by the plugin but user can edit this parameter.
1.) Stair Type: Straight, L-Shape, U-Shape
2.) Stair Width: 40 inches or 1000mm
3.) Stair Height: (This will be determined by the picking of points and the bottom floor plane) ft-in or mm
4.) Max. Riser Height: 7.75 inches or 200 mm
5.) Draw Risers: YES/NO
6.) Riser Thickness: 3/4" or 19 mm
7.) Riser Material: Lumber, Lumber PT, OSB, PLY
8.) Top Tread Flush: Yes or No (this option will make the top tread flush with the upper level/deck
9.) Tread Depth: 10" or 255 mm
10.) Tread Thickness: 1.25" or 32 mm
11.) Tread Nosing: 1.25" or 32 mm
12.) Nosing Shape: SQUARE or ROUND
13.) Tread Material: Lumber, Lumber PT, OSB, PLY, Oak, Birch, Maple, Pine etc… (custom material from material manager in global settings.
14.) Stringer Qty: 2, 3, 4, or 5
15.) Stringer Depth: 11.25" or 285 mm
16.) Stringer Thickness: 1.5" or 38 mm
17.) Stringer Material: Lumber, Lumber PT, LSL, LVL
18.) Stair Framing: YES, NO, 2D
19.) Advanced Options YES or NO
The advanced options or parameters are tentatively:
1.) Thrust Block: None, 2x4, 2x6, 2x8 or metric sizes for metric templates
2.) Hanger Board: Yes or No, will default to 3/4" or 19 mm OSB
3.) Landing Tread: Yes or No ( will default to a 3-1/2" landing tread with bull nose to match stair treads)
Eventually I will add other advanced options such as hand rails, skirt boards, gypsum spacers, blocking, brackets etc…
I'm not an expert on stairs but I do have a couple of details where I've considered the various elements of a typical stair case:
http://design.medeek.com/cad/autocad/STAIRHEADER_SECTION.pdf
http://design.medeek.com/cad/autocad/STAIR_SECTION.pdf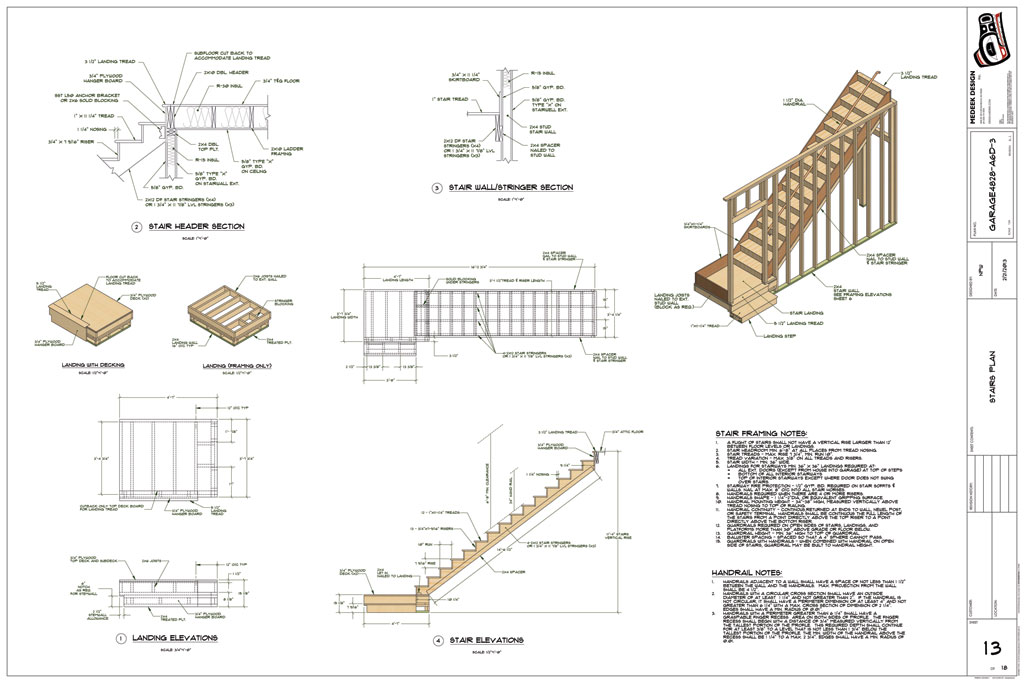 L-Shapes and U-Shapes get quite a bit more complicated with the inclusion of a landing. I will start with just a straight run of stairs first.
Right of the bat I will start with HTML draw and edit menus, no point in messing around with the traditional UI, especially with such a long list of parameters already.
Updating a stair assembly to 2D will drop its line drawing to the lower level and a up arrow will indicate the direction of travel. I may add an additional parameter so the user can determine which level to show the 2D stair plan on. Perhaps the stair framing option should be more granular replacing 2D with 2D Up and 2D Down. Or one could even go so far as to show a 2D representation on both levels with a down arrow on the upper level and a up arrow on the lower level.
Basically another plugin with a plugin. I could break it out into its own separate plugin but I really don't see the advantage, besides I need to make the wall plugin worth the high price tag that I am now charging.
Here is Alfred Scott's Stair Tool (part of his Wild Tools collection of extensions) for PowerCADD. It's 2D only, of course, and just the finished surfaces, not the details of construction. I love his use of graphical user interface. The three sliding bars are the three rules of thumb for good stair proportions and you can see that feed back in real time as you adjust the run. There are parameters for code min and max and the gray shading displayed is the code limited zone. First you choose the number or risers for the total floor to floor rise, then chose the run either graphically, or numerically.
Thats a nice way of showing limitations!
If you go with any type of code limiting parameters, don't overlook the optional Appendix V to the 2018 IRC which relaxes some constraints in one circumstance: Access to sleeping lofts in Tiny Homes!
I'm sure you can guess why I'm aware of this - and hoping it makes it into your stair extension-within-extension!
Up until now I have not limited the plugin(s) in any way based on building codes (IRC, IBC etc…)
The problem with that is I have too many international users who may have different limitations that don't align with US building codes.
I think what I will do instead is implement this sort of checking within the engineering module.
So for instance it could do a check on the stairs and give you a warning about the rise being too great with a citation or reference to the applicable section of the code.
As far as stairs and egress window size/positioning goes, I'm 90% sure that US codes are derived from the International Building Code (IBC) of which the International Residential Code (IBC) is a subset. In the US, those jurisdictions that want guidelines for their inspectors on Tiny Homes have almost universally adopted the optional IRC appendix - lock, stock, and barrel - even before the rest of the 2018 IBC/IRC has been adopted. There aren't many that have done so - yet!
I'd recommend a long term plan to warn when some piece of the structure being built doesn't align with the IRC/IBC - but still allow it. With a caveat that local codes (without specifying country) may differ.
Version 0.9.7g - 10.13.2018
Created icons for the stair module.
Still putting together the HTML menus. It may be a couple days before this module actually produces useful output.
Version 0.9.8 - 10.14.2018
Critical update with the global settings module.
Critical update with the auto-corner configuration module.
I noticed an error that seemed to be common across a number of users and after digging down through the code I think I unearthed the bug that was causing this error. This error was actually caused by a recent change in the code where I was attempting to improve the performance for larger models (0.9.6).
I believe this fix should address the bug and also augment the performance for large modules. Sometimes when you try to fix things you break things but in the end it will all work out.
Version 0.9.8b - 10.15.2018
Fixed a typo/bug in the window module (casing).
This bug was only an issue in imperial templates and when you enabled casing but not ext. trim.
Wall Presets often seem to be confusing many of our designers so I've put together a short video trying to clarify some of this functionality and possible quirks that users should be aware of:
Version 0.9.8c - 10.17.2018
Removed the wall justification parameter from the draw and edit wall menus.
Interior wall door casing properly configured for both sides of the wall.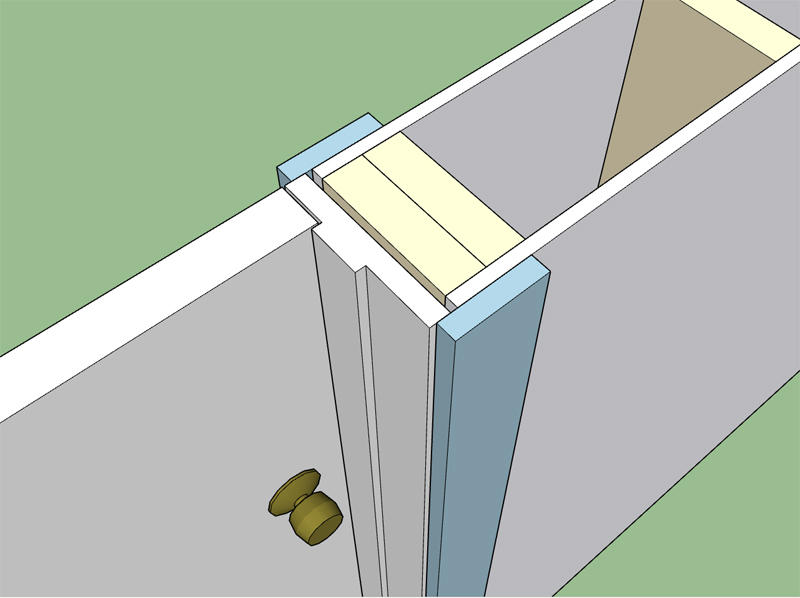 Today was one of those busy days where most of the day was consumed by emails and phone calls. Its safe to say that most of the day was spent interacting with people and less time spent on the code, not that this is a bad thing. Since I could not dive deep into the gable or stair projects I put out a couple small fires that were a bit lower on the list. Its always nice to knock out some low hanging but troublesome fruit.
Prior to this fix all doors created within interior walls were installed with ext. trim on the wall's exterior side. In reality interior doors should have casing on both sides of the wall.
Here is a first look at the gable wall matrix: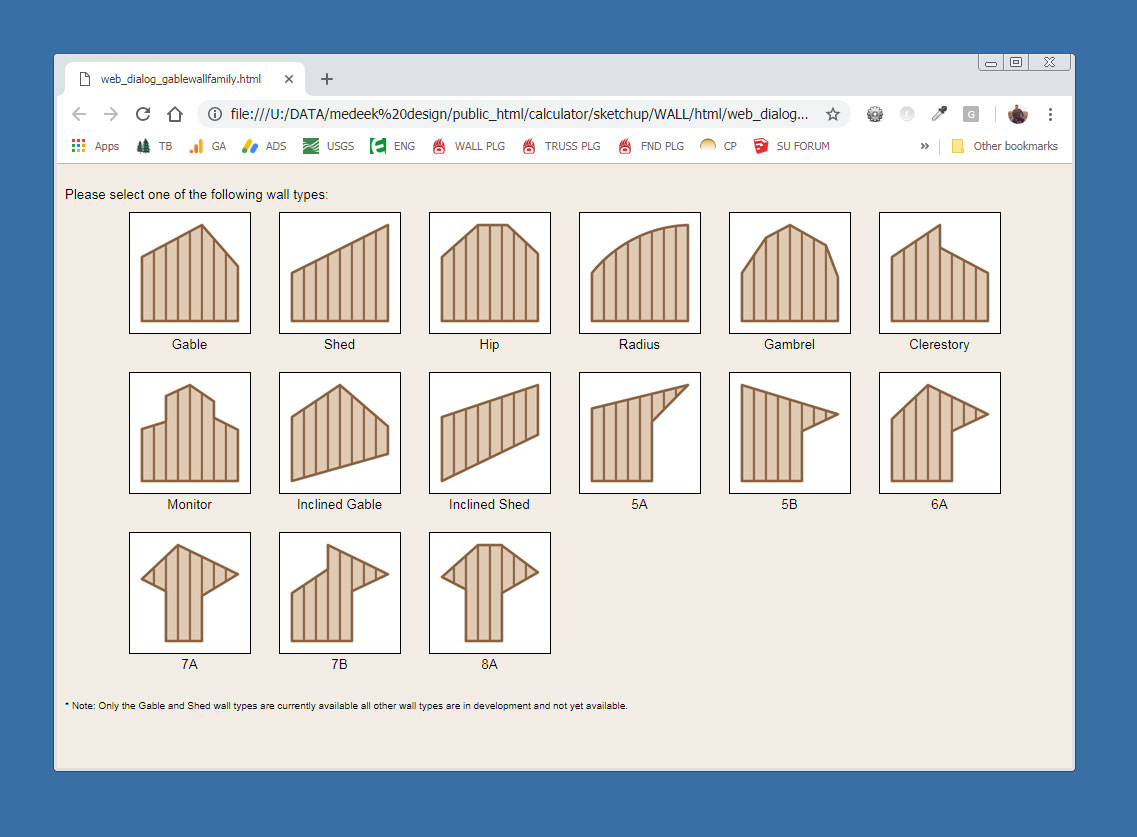 The rabbit hole is going to get really deep. I am initially concentrating on the standard gable wall and then onto the shed wall.
Some of these wall types will also require a mirrored version (just another parameter in the wall menus).
Note, that a triangular wall is nothing more than a degenerate gable wall where the wall height is zero at the start and end of the wall. A shed wall with the lower wall set to zero height is a right triangle. The same sort of logic can be applied to all the other various wall heights shown.
Things get a little interesting when you start moving these type of walls or walls that are adjacent to these walls (attached at the corners). Each wall type may require its own special auto-corner configuration algorithms. As long as I keep things modular all of this complexity shouldn't be too big of a problem.

AOK! Halleluha!
This is just a gut reaction, but I can't help wonder if there isn't a better way to think about the whole thing. Just like, perhaps, doors and windows are exceptions cut into your standard wall, maybe top and bottom cut-outs/extensions make exceptions to standard framing to make almost any shape possible. In principle, it's a form of Perturbation Theory.