First look at the Custom Header Library (Manager):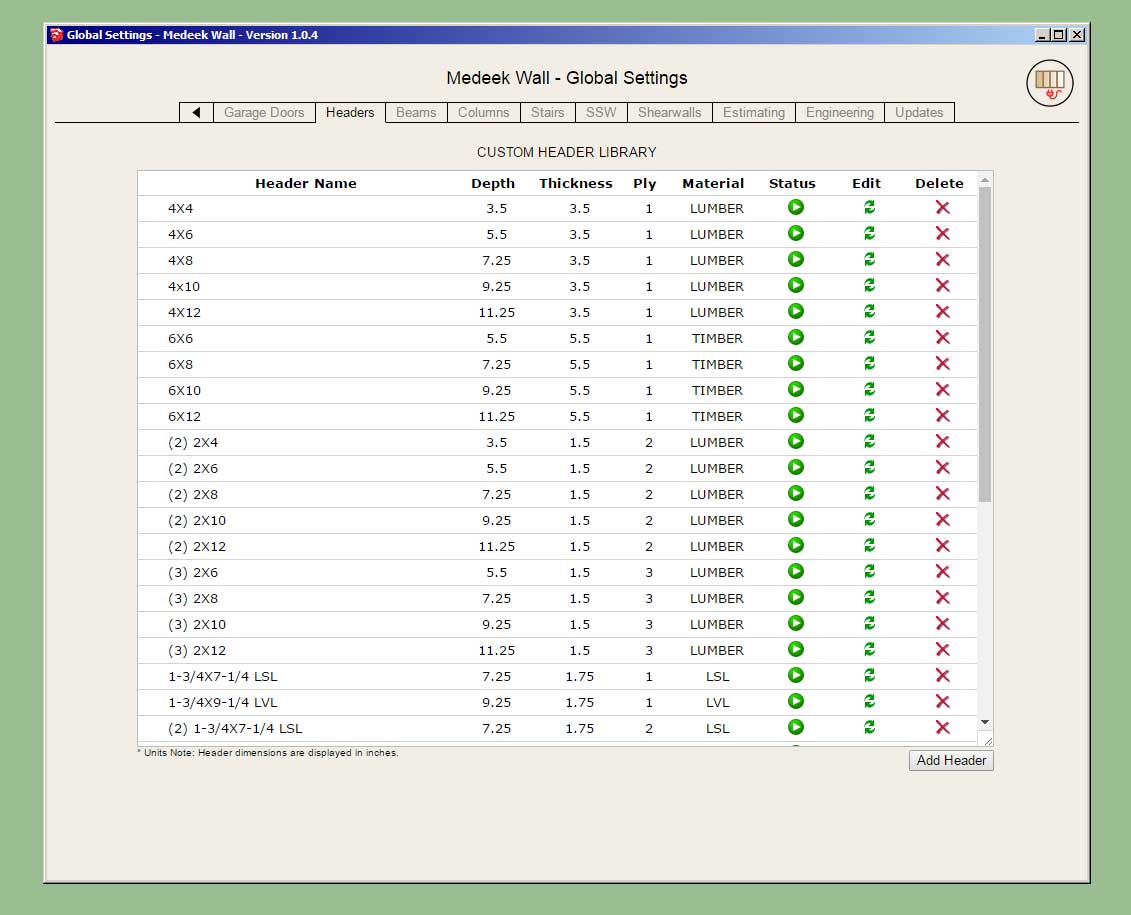 The look and feel is somewhat similar to the material manager, but it may evolve further as we go.
I've set it up so that metric and imperial libraries are stored in completely separate files. Each library is loaded based on the currents units of the model. This allows one to maintain two distinct header libraries, one for imperial sizes and one for metric sizes.
Metric header sizes (dimensions) will be displayed in millimetres, imperial in inches.
Names or the description may include spaces as shown.
There are five basic parameters for a given header: name, depth, thickness, ply and material.
The ply is limited currently to 1,2 or 3.
Materials are limited to: Lumber, Timber, LSL, PSL, LVL
There are other more exotic header configurations (ie. foam sandwiches etc…) however this update will at least allow the user to create their own custom sized headers.
P.S. This is a fairly major change in the plugin which affects a lot of elements (doors, windows, garage doors) and a lot of menus (global settings, draw and edit). As such it will probably take me another day or two to make sure that I've updated everything affected by this change and it all works well together.
Another thing worth noting is that if you create a wall with a given header name (eg. 4X4) and then delete that header from your library, on purpose or even accidentally then the plugin will no longer be able to complete a lookup on that particular header name. If the plugin cannot find the header name in the library it will simply default to a 6x6 timber header by default. The purpose behind this behavior is that you can then go into the global settings update/edit a particular header and then regen your walls and they will update with the new parameters for the updated header.
Also these two words are reserved words and should not be used in naming your headers: GLULAM, NONE