Hi,
I can't stare the flextool toolbar at each sketchup opening ?
Hi Bruno,
You should be able to see the FlexTools toolbar every time you start Sketchup.
Is the toolbar not showing up on startup?
Did you by any chance have a few Sketchup windows open at the same time?
If you turn it on, close Sketchup, the next time you open Sketchup it is not there?
What operating system are you on?
What version of Sketchup?
Yoni,
that is very bad programming if you don't allow the user to turn it off…
toolbars should be using :restore not :show…
john
Hi John,
Sorry I must have been not too clear in my previous message. What I meant was that if the toolbar was on, it should stay on and in the same location after a Sketchup restart.
If it was turned off, it's supposed to stay off.
Hi Yoni
Finaly, i've changed the toolbar place and restarted sketchup. It works. Maybe the old place between all my plugins toolbars wasn't large enought ?
It's really a very good plugin !
Hi Bruno,
Good to know it's working fine now.
Thanks! Spread the word
Glad to announce ComponentFinder was updated to version 0.8.0

The highlights:
Folder scanning depth is now increased from 5 levels deep to infinity! (and beyond…)

The maximum number of components in an open folder tab is now up to 6000!

When opening a new folder tab, the scanning will be going on in the background so you can continue working while it's scanning. Components will be added as they are discovered.

You can now cancel the scan anytime.

Faster loading of open folder tabs during CF startup.

An additional larger zoom level was added.

You can click on the folder name and it then shows the full path instead.

When hovering over components, a tooltip appears with the full path.

The annoying bug where components' thumbnails would suddenly break? Squashed!
.
To see the full list of release notes => https://flextools.cc/release-notes/
How to update => https://flextools.cc/learn/updates/
Download Link => https://flextools.cc/componentfinder
You can now use FlexTools in Japanese 日本語 !
Translations usually come in with a bit of a delay after each release. In this update we've added some translations for the FlexSlider component. Japanese is available for FlexPack Pro and FlexPack 2017 too.

Many thanks go to our devoted translators who keep contributing their precious time and expertise:
Takahiro Terasawa for the new Japanese translation
Pilou - French translation
Rafael Teresa - Spanish translation
Rebeca Rabia - Portuguese translation
Charles Tom from Geographic Information LTD 幾何資訊 - Traditional Chinese translation
Shaun 肖万涛 - Simplified Chinese translation
If you can help to translate FlexTools into your language - Please let us know!
The new Flex Double-Hung Window is released!
Check out the video to see how it works:
This looks really nice at first blush!
I personally don't care for the subscription model. All do respect but if I buy something like this and make it part of my go to work flow and for some reason the internet or your infrastructure goes away I'm left with nothing.
So for me it's a none starter.
Hi Christopher,
An internet connection is required only for the once a year activation, and for when there are updates of new components and tools which we are constantly working on, and releasing as they are ready. You do not need to be connected all the time.
As a follow up see attached gif
3 different instances of the window, all have the sill specs zeroed out but each show a partial sill.
Also see other example where i drag in a window onto a face where there was previously a window and the window no longer cuts a hole??
Hi,
Something isn't right in the first gif with the sills. It looks like the DC plugin just stopped working (maybe a restart would help), but it's hard to tell from the gif alone exactly what is going on there. Can you send the model to yoni@flextools.cc?

Placing wall cutter components side by side may cause some issues too. Not those issues, but more related to the wall not healing correctly. So if those are wall cutters I'd recommend to convert them to regular components.

For the second gif
a. As a general rule, it's recommended to place the window outside of the wall component and not directly on the face.
b. Make sure the wall element is in a component, and not in a group.
Placing the window on a face or on a group could cause unexpected behaviors if you wish to later move the window around and keep the dynamic openings as expected.
c. Make sure all the wall faces are facing out - Switch to the monochrome style > White faces pointing out, and colored faces pointing in.
d. If you can send to me the second model, it may be helpful too.
A new update is out!
You can now browse and search through your In-Model Components and Groups with
ComponentFinder!
Read more details on the FlexBlog.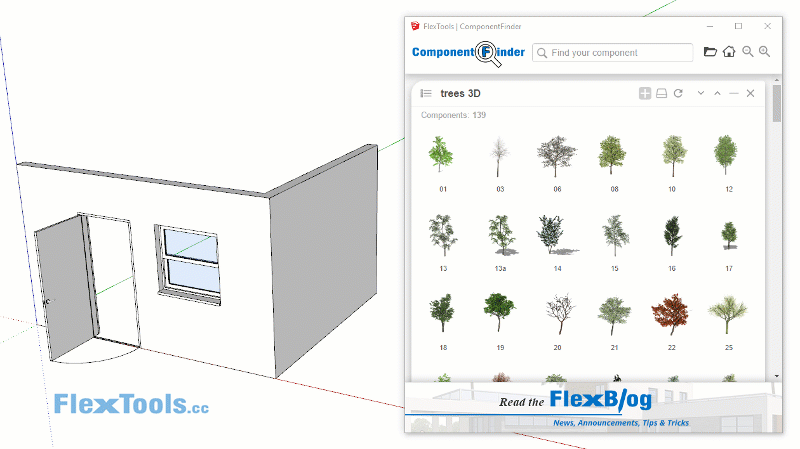 You can now produce 45(+) different Dynamic Doors, thanks to Mr. pcmoor and his extremely useful Multi Dynamic Door Panel .
How? By combining it with FlexDoor
We've known about this multi door panel component for quite some time now, but it had a catch. The minute you made a copy of it, and altered one of the copies, both DCs would jumble up with sub-components flying all around your model. The only solution was to delve deep into each component and make all of it's sub-components unique - A very time intensive process. So… we decided to develop a tool just for this called ' Make Totally Unique '. After applying this tool to your new door variations, the door and all of it's sub-components will instantly become unique and they will all behave just right.
See the video in this FlexBlog post:
Sketchup 2019 is available!
As far as our testing, the current version of FlexTools should work on it just fine

Let us know how it goes for you.
We've had a chance to visit a manufacturer of beautiful high quality hidden doors called Minimal Doors.
Now we're happy to share with you their elegant, hidden, very minimal (now flex) doors, and a new WallCutter feature 'Hide Cut Edges'.
Learn more about how to hide frames in this FlexBlog post.
New Flex Casement Double Window with 20 window style presets is released!
See more details in the FlexBlog: https://flextools.cc/blog/flex-casement-double-window
A new video by Justin from The Sketchup Essentials shows how to build a house in no time using FlexTools and Tig Roof.